HPSO & the Garden Conservancy Open Day Tour
Each year since the 1990s, HPSO has teamed up with the Garden Conservancy to provide a fabulous one-day tour of private open gardens. Proceeds for the tour are split between the two organizations; HPSO's proceeds go towards the Elaine Joines Grants Program and the HPSO horticultural scholarship fund. The tour is completely organized and staffed by volunteers. The location of the tour varies each year, typically to a different part of the greater Portland metropolitan area.
2015 Tour

The theme of the tour for 2015 is "Extending Your Garden Season". The tour will be in the Beaverton area this year. Five beautiful gardens are featured:
Winchester Place Garden (Zachary Baker & Leon Livengood) - lead garden (2280 SW Winchester Place, Portland)


The Mitchell Garden (Christine & James Mitchell),

12250 SW Lynnridge Avenue, Portland)
The Prewitt Garden (Nancy & Gordon Prewitt, 13625 SW Far Vista Street, Beaverton)

The Schmitt Garden (Cathie & Al Schmitt, 10695 SW 153rd Place, Beaverton)

The Peck Garden (Marcia & Dennis Peck, 10790 SW 153rd Place, Beaverton)

You will have the opportunity to purchase raffle tickets for fabulous garden art at the lead garden. Raffle proceeds will benefit the HPSO grants program directly.
The tour will occur on Saturday, August 29, 2015, from 10am to 4pm.
Advance ticket purchases are now closed. Please purchase your tickets directly at any of the gardens on the tour. Thanks. Tickets are $7 per garden.

Your visit to these gardens supports HPSO's grants and scholarship programs and the Garden Conservancy's mission to preserve exceptional gardens across the United States for the education and enjoyment of the public.
Download tour directions: Driving Directions (written) | Driving Map
This year's garden details: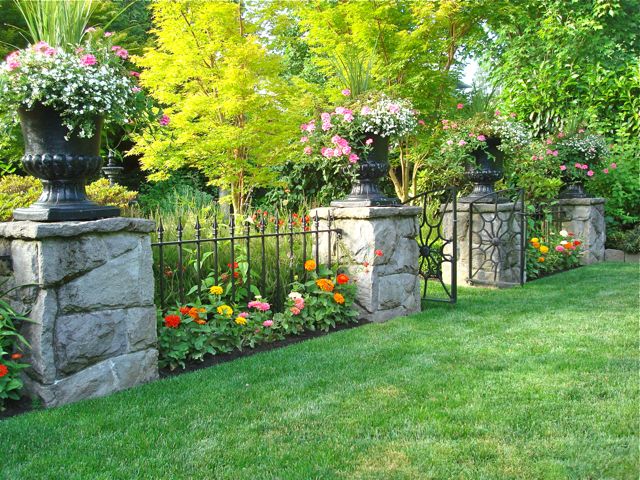 Winchester Place Garden: Zachary and Leon have combined the best of English gardens with southern charm of gardens in Charleston and Savannah. They have used boxwood lined perennial beds, a basalt rock and iron fence, a two-tiered cast fountain, a dining terrace, and a cocktail terrace to define the garden rooms. There are both sun and shade loving perennial beds. (Photo on the right by Zachary Baker)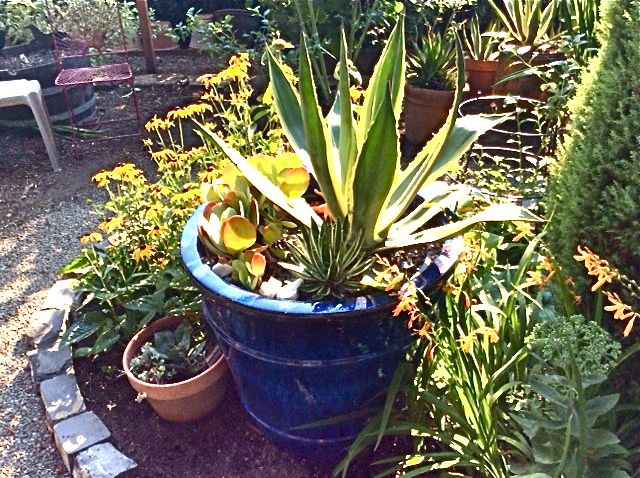 Mitchell Garden: Christine and James have spent 15 years editing and revising their space into what they call their "private paradise." It is a lush Northwest garden with perennials blooming from early spring through late summer and many conifers. The installations of two brick patios, stone paths, multiple trellises for hops used by the home brewer, a large raised stone bed in the back yard, bird houses and feeders and an edible garden were designed for multiple and year round use and enjoyment. (Photo on the left by Christine Mitchell)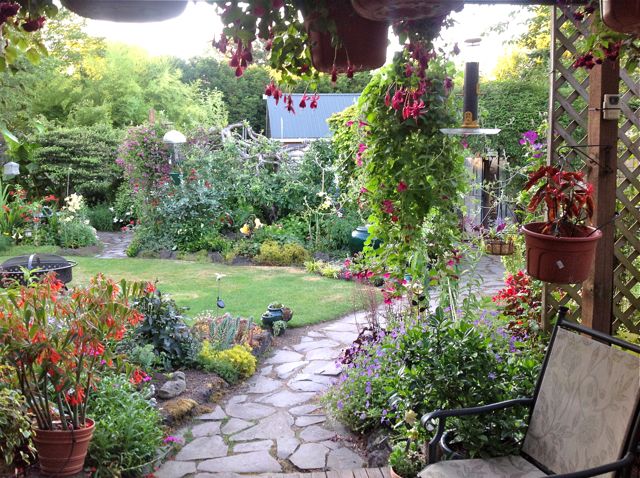 Prewitt Garden: Nancy and Gordon have been revising and expanding their 1/3 acre garden for 39 years. They now have 1000 square feet of raised garden beds, a greenhouse and a hoop house all of which allow them to harvest edibles and enjoy tender succulents and perennials throughout the year, even in winter! Add to this their fruit trees, blueberries, raspberries, blackberries and a front yard which is all perennial beds. Their garden has year round appeal and utility.
Schmitt Garden: Cathie and Al have evolved their garden over the past 16 years as a modern Mediterranean space with emphasis on outdoor living spaces. It has been recently designed and renovated by landscape designer, Marcia Westcott Peck, with water features, custom trellises, potted vegetables, year round flora and a meandering path that make it a delight at all times of year. (Photo on the left by Marcia Westcott Peck)
Peck Garden: Marcia and Dennis use their ¼ acre garden space as a constant source of projects they have featured in the column they write for the Home & Garden section of The Oregonian. Some of the garden features may look familiar to you including stone mosaics, two water features, a gazebo and a rustic arch built from their plant materials, stone walls and a fire pit. Marcia has used her landscape designing talents, and Dennis's strong back, to highlight the many projects in their landscape of bottle bush, rice paper plant, ornamental grasses, unusual sedums and other plantings. (Photo on the right by Marcia Westcott Peck)