HPSO & the Garden Conservancy Open Day Tour
Each year since the 1990s, HPSO has teamed up with the Garden Conservancy to provide a fabulous one-day tour of private open gardens. Proceeds for the tour are split between the two organizations; HPSO's proceeds go towards the Elaine Joines Grants Program and the HPSO horticultural scholarship fund. The tour is completely organized and staffed by volunteers. The location of the tour varies each year, typically to a different part of the greater Portland metropolitan area.
2014 Tour
The planning committee is currently firming up the date and plans for 2014, likely to be in June or July. And, it is sure to be fabulous!
If you're looking for a great gift idea for the holidays, purchase tickets here. Tickets never expire, and they are good at any Garden Conservancy open garden event throughout the United States! You can save money by buying tickets through HPSO. A booklet of 6 tickets for $25 - a savings of $5.

2013 Tour

The theme of the tour for 2013 is "A Unique Journey: From Plant Collections to Urban Food Sourcing". The tour will be in the Lake Oswego/West Linn areas just south of Portland. Five beautiful gardens and a clematis botanical collection are featured:
The Tuttle Garden (Charlene and Bill Tuttle) - lead garden (5710 Childs Road, Lake Oswego)


Rogerson Clematis Collection at Luscher Farm

(125 Rosemont Road, West Linn)

The Sheng Garden (Sherry Sheng and Spike Wadsworth) (5725 River Street, West Linn)

The Darcy Garden (Mike and Linda Darcy) (2311 Prestwick Rd, Lake Oswego)

The Ervin Garden (Robert and Mignon Ervin) (2240 Prestwick Rd, Lake Oswego)

The Bates Garden (Susan Bates) (11626 SW Military Lane, Portland)

You will have the opportunity to purchase raffle tickets for fabulous garden art at several gardens. Raffle proceeds will benefit the HPSO grants program directly.

The tour will occur on Saturday, June 29, 2013 from 10am to 4pm.
Entry is $5 per person per garden on the day of the event. You can purchase tickets "by the book" and get 6 tickets for $25, which is a savings of $5. Tickets have no expiration date and can be used at any Garden Conservancy open garden anywhere in the United States. Buy a book of tickets online here.

Download tour directions.

This year's garden details:
Tuttle Garden: A plant collector's dream, there are over 200 clematis, fuchsias, hydrangeas, peonies, hellebores and poppies around the house on this 1-¾ acre garden. Structure of the beds is enhanced by the use of evergreen trees, shrubs and Chinese red trellises. There is an eye-popping 100' front border and a large collection of fruit trees, fruit bearing plants and a large vegetable garden .
Rogerson Clematis Collection: This 1-½ acre botanical garden showcases North America's most complete collection of the genus Clematis along with hundreds of companion plants in a wide variety of settings and micro-climates. The setting includes Luscher Farm, a historic farmhouse, and a greenhouse where non-hardy plants can be seen.
Sheng Garden: A multi-level garden overlooking the Willamette River, the sunny 1/3 acre site is filled with vignettes of plants and garden art. It is lushly planted, offering structure, texture and fragrance along with water features, metal plant structures and the works of garden artists. The host "warns" visitors of close encounters with butterflies and hummingbirds.
Darcy Garden: This garden has been evolving since 1974 and now includes four water features, a grandchildren's garden and many container plantings throughout the garden beds and on the deck. There is a series of paths leading to the extensive beds with special garden art and the deck. The hosts wish for their visitors is to find peace and relaxation.
Ervin Garden: With a mixed-use garden emphasizing urban food sourcing, the garden hosts enjoy their raised beds, aquaponics, chickens, ducks and bees and vineyard. They planned their garden to be eclectic and have created areas for entertaining and contemplation. The view over Oswego Lake of Mt Hood is expansive and breathtaking. The property is 1-¾ acres of which about 1 acre is gardened.
Bates Garden: This is a Collector's Garden that has been developed over 70 years. The 1.75 acres has an upper parkland, native plants, a main garden, and a Chilean garden. This garden has unique and unusual plants including espaliered crape myrtle and pomegranate, hardy fuchsia collection, and a wisteria trained as a standard.

Extensive details about each of these gardens is available in the HPSO Quarterly, Spring Issue.
VOLUNTEERS ARE NEEDED:
If you would like to have free admission to each of the five gardens on the tour, please volunteer (HPSO members only). Shifts are from 9:30am to 1pm or from 12:45pm to 4:15pm. Please contact Liz Wiersema (or call 503-620-9188) with your information: phone contact, email, shift request, etc. Thank you.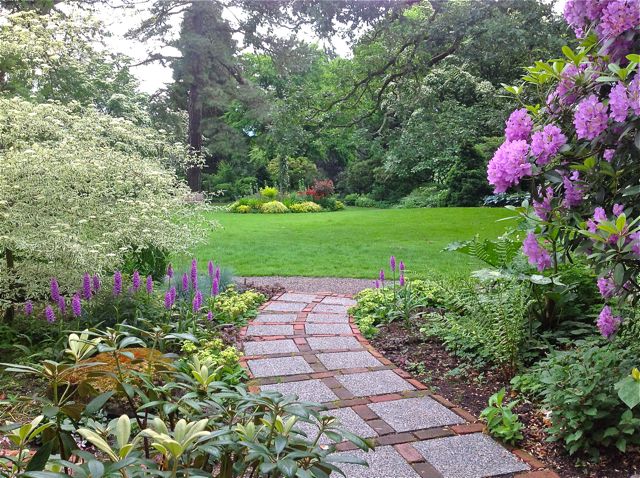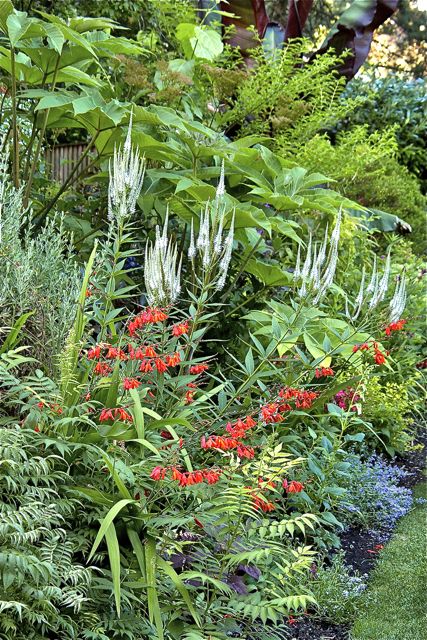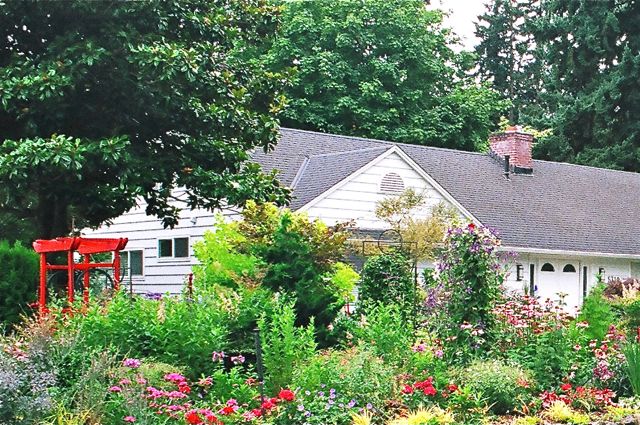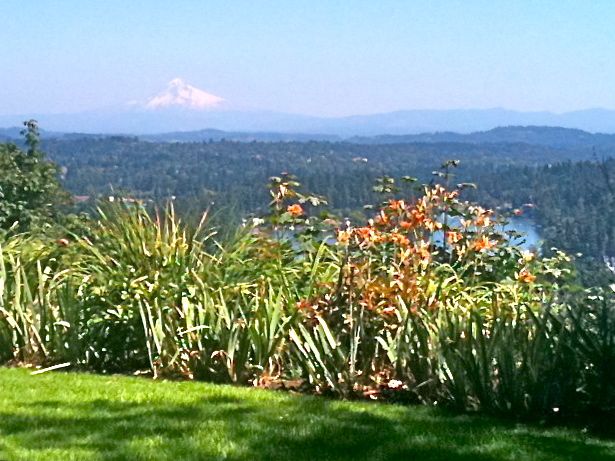 Photo credits go to Doreen Wynja and Janet Loughrey. Thank you for sharing your photos!